Innovation management - with creativity to success
The pressure from outside is growing! New competitors are snatching away market share! Even customers become competitors. Products and services hardly differ.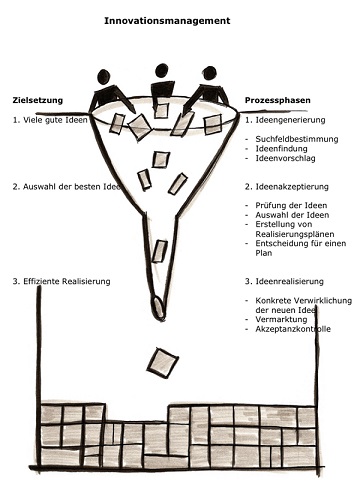 Result: growing price and cost pressure. New ideas are required!
However, new ideas do not fall from the sky. They must either be generated systematically in the company or procured externally. What opportunities do we as entrepreneurs have to master this challenge?
The solution: growth through innovation.
What is an innovation? There is a different idea about it in every head. We typically associate innovation with the renewal or creation of something new. Innovations have the following characteristics:
Uncertainty and risk - the future is not predictable

Grad Degree of novelty - view of customers or the company

Complexity - from development to market launch

Conflict content - different opinions among those involved

Continuous improvement - continuous development process
Above all, innovations are processes!
A very general description is Thom's innovation process:
1. Generation of ideas
2. Acceptance of ideas
3. Realization of ideas
The first phase includes determining the search field up to the concrete idea proposal. In the second phase, the ideas are checked and evaluated. In this phase, the implementation plans are drawn up and a decision is made as to which plan is implemented. The final phase deals with the concrete realization of the idea and how the new idea can be marketed. The acceptance control completes the innovation process.
How can companies increase their ability to innovate?
The neurosciences show what our "gray cells" need to really get going. When decisions have to be made or solutions and ideas are sought, we automatically use our own knowledge and experience first. That is normal and correct. However, it would be negligent to only keep your own knowledge, because this way, well-known thinking patterns are often taken up again and again. There is a danger of making wrong decisions. For new solutions it is important to get many "creative" minds on board.
Creativity arises from the interaction of many brain activities. But here too it is true that knowledge is power. To a certain extent, memory is the battery for creative achievements.
Systemic thinking creates innovations!
People never stand alone. They are integrated into systems that influence them and on which they depend. It is important to uncover such relationships and use them to increase innovation. Only when the systems change will the solutions change. For this reason, it is important to manage the innovation processes in the company so that the speed and the success of the innovation project can be increased.
But the most important driver of innovation and the decisive success factor in the innovation process are we people who work motivated and full of enthusiasm.
All creative potential is useless as long as it only remains potential. Because no idea is advantageous for anything as long as it remains an idea.
Creativity techniques are very helpful in promoting ideas. Using them is a sensible investment in know-how and an important step towards innovation management.
Let's talk ...
Your Violetta Haag
The coaching process
Coaching helps you to develop awareness of your strengths. Awareness leads to action.